A Note from Michael
August 6, 2013

Hi Everyone,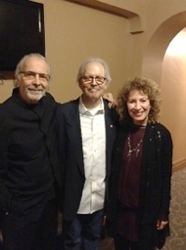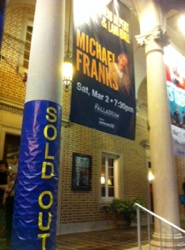 Just wanted to say hello and keep in touch. Our touring schedule has been kind of light this past year and the band and I are looking forward to our upcoming dates. We played two gigs this past Spring in Florida with Herb Alpert and Lani Hall. It was wonderful to return to Florida (Claudia and I spent winters in Sanibel for 22 years). And what a pleasure it was finally to meet Herb and Lani! (She recorded one of my tunes back in the mid-Seventies). Claudia still loves Herb's vocal hit "This Guy's in Love With You." And I'm hoping we can play more dates together sometime soon.
Speaking of dates, Chuck Loeb is trying to arrange some dates in Europe for me next Summer as guest vocalist in a "super group," including Chuck, Jeff Lorber, and Jimmy Haslip, all of whom have produced my records in the past. So I'm crossing all my fingers and toes.
Our gig in Detroit is coming up later this month--I have a special place in my heart for this city and I always look forward to meeting the fans there again.

In late October we're off to Japan....I'm not quite sure how many concert tours there this will make (17 or 18?). But it's always a pleasure to perform there. And each time I visit I remember the first tour we did in 1977 which occasioned "Rainy Night in Tokyo."
| | | |
| --- | --- | --- |
| | | |
| Our Wedding Shrine | | Michael & Charles with Toku |
Over the years we've had many great Japanese musicians and singers sit in with us. Here's a shot of me and Charles taken backstage on our last visit when we were joined on stage by the great flugelhorn player, Toku.
This summer I've been dividing my time between my studio and the garden. Claudia's never had me home this much (as comedian Steven Wright would say "in a row.") I think she and the dachshunds have deep-sixed my suitcases and unplugged the phone. We've never been able to plant a garden together and watch it grow. In the old days, she used to fax me progress reports to the tour bus!
Claudia and her friends have been especially busy at the Shelter these past few months.The Humane Law Division of the Ulster County SPCA has had their hands full to say the least--rescuing pigs, roosters, horses, and sheep--all abused and neglected beyond belief. They rescued 130 cats from one hoarder's apartment! The largest rescue in their history. On an even larger scale Hearts United for Animals (who rescued our dachshunds Flora, Nellie, and Gina) have been rescuing puppy mill dogs in staggering numbers. They're also overflowing with cats for the first time ever. ADOPT, DON'T SHOP is our motto and SPAY AND NEUTER our mantra. On a recent visit to the Shelter, I meet Kisses, Panda, and Obsidian:
| | | |
| --- | --- | --- |
| | | |
When I meet people after the show they sometimes ask me what I'm reading and what music I'm listening to. I just finished a new Carl Hiaasen, Bad Monkey. I've been a faithful fan of his since I read Native Tongue a few years back. Other recent reads include: Barbara Tuchman, The Guns of August, and Henning Mankell, The Man Who Smiled (a Kurt Wallander mystery). Musically, I'm very impressed with a pianist/composer named Amina Figarova, whose latest CD is called Twelve. Also been listening to some old Jorge Ben records and music by the late (great) T. Lavitz (it's all excellent!).
Yesterday we had a washing machine mishap in which water poured from the first floor down into the basement. Fortunately, we were home and could respond to the unfamiliar sound of a babbling brook inside the house. As I shut off valves, Claudia rushed down to save a box of photographs perilously close to the "shoreline." We found this one, taken in about 1978 (I'm guessing), which shows the band at that time consisting of Bill Henderson on piano, Bruno Carr on drums, Paul Socolow on bass, and John Payne on sax.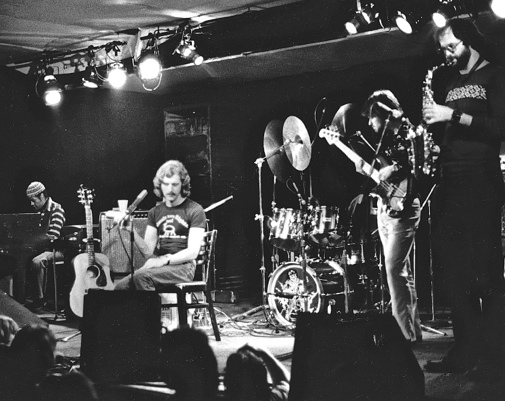 Well, that's it for now. It's time to feed the cats, walk the dogs, harvest the heirloom tomatoes (if the chipmunk hasn't eaten them all), jump in the pool, and thank all of you for your continued friendship and support.
Wishing All of You
Health, Prosperity, Happiness, Peace


S.O.J.G.*
* A few years ago we were playing the House of Blues in New Orleans (a perennial stop for us). I left after the soundcheck to hunt down some vegan food. When I returned just before showtime there was a large crowd lined up in front of the club. I had to cut through this line to get to the stage door. A young House of Blues employee was directing people and when a couple passed by and asked "Who's playing tonight?" he replied "I don't know. Some Old Jazz Guy." And this is how I've referred to myself to Claudia ever since...


"When my Baby cooks her eggplant...."
Claudia, Happy 6oth Dragonfly Summer!