A Note from Michael
"The hummingbird would hum beside me
And never fly away
If only I could
Make September stay"
September 3, 2012

Hi Everyone,
It's been a pleasure seeing all of you out on the Road this summer. Air travel sure isn't what it used to be.....I don't think I took one flight that wasn't either delayed or in danger of being cancelled. The crazier the circumstances, the funnier the band dialogue becomes (and the harder our tour manager has to work to make sure we all arrive in the next city in time for the gig). Sean Conly on bass and Karel Ruzicka on sax are with us this time around and we're all really enjoying our time together.
| | | |
| --- | --- | --- |
| | | |
| Autumn Visitors | | Party Crashers |
On the homefront, it's been taking me more than "a week to mow the lawn." The drought and the prolonged heatwaves we've experienced up here in the North East have taken their toll on our garden, but we've hand-watered the tomatoes, green beans, and squash and now we're being rewarded for pampering them.
It's been a tough summer at our local shelter (and at most shelters, I think). Our local SPCA is filled to capacity with abandoned dogs and cats, many of which have been there for two or three years. If you're contemplating adding a companion to your home, please consider adopting a shelter dog or cat. Their natural love is magnified with gratitude. Petfinder is an excellent way to connect with adoptable companions at your local shelter (aside to my wife: Please Ignore This Suggestion!).

Babe - eagerly awaiting her
forever home -

NEWS!

She has just
been adopted [view video]
Bahama - a sweetheart
was at UCSPCA for over
2 years and just adopted!
Your poetry book dollars at work!

Two great pet-centric television shows we've been watching: "Dogs in the City," and "My Cat from Hell." Watching the latter makes us think our two boys, Theo and Miles, who will chew anything from towels to shoelaces to drawer knobs, are in fact little angels.
| | | |
| --- | --- | --- |
| | | |
| Theo - Repeat Offender | | 3-Legged Miles |
As you may remember I promised to donate all my royalties from the song "Time Together" to Hearts United for Animals (www.hua.org) in memory of Flora. Thanks to all of you who purchased the CD, I donated $850 to them. And a special thanks to our friend, Kathy Lupton, who alerted us to a matching funds campaign which helped HUA double the amounts. And to those of you who bought the poetry book via the Facebook link, we donated 100% of the proceeds to our local animal shelter.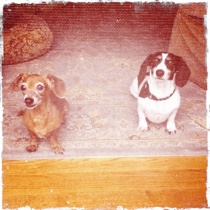 Waiting for green beans...
I hope all of you have a beautiful autumn: crisp days, leaf-raking, pumpkin pie. And now that it's no longer 99° in the shade....time for vegan lasagna!
Wishing All of You
Health, Prosperity, Happiness, Peace


P.S. - We're archiving previous web letters here.